Website Analytics Service that's easy to understand
A classic implementation of the popular and simple to use website statistics service
Real-time website visitor IP analytics
TraceMyIP provides a wide range of EU GDPR compliant website statistics and analytics services to assist a webmaster in managing web presence. Unlike self-hosted web stats solutions, with website analytics tools from TraceMyIP, a webmaster can manage the simultaneous statistical evaluation of multiple websites under the same TraceMyIP account. The entire real-time website traffic summary of all website projects is displayed on the same dashboard page.
One of the features of hosted analytics by TraceMyIP is the [summary of projects] report. This report provides essential information on all website projects being monitored on the same page. This page is updated in real-time per time interval set by a webmaster and provides information such as how many users are currently browsing each website, pageloads graphic chart that represents a website traffic flow, and the number of total page loads for the current day, yesterday, last seven days, last month and a total number of visitors currently browsing each website. This report can also be configured to display a second row of summary stats, which can show either website unique or first-time visits information.
Audio notifications are available to alert a webmaster of any new visits. Other data provided is the status of each project, a visitor tracking mode, such as hidden or visible, the status of HTML or JavaScript tracking, selective geographical tracking, web bots blocking, EU GDPR configuration status, and other web project-related statuses.
Advantages of TraceMyIP hosted web statistics services
Unlike self-hosted website analytics platforms, hosted statistics software is updated immediately should any issues arise, helping web publishers to concentrate on work and not on the technical performance of web analytics software. There are other advantages of hosted vs. self-hosted web analytics.
Hosted web traffic evaluation trackers significantly reduce the CPU load on the servers that host the publisher's content, and save data on dedicated hardware storage independent from the content storage. And unlike self-hosted statistical software packages, services hosted by TraceMyIP offer free online technical support available to members 24x7. Additional highly configurable EU GDPR compliance tools make it significantly simpler to manage compliance and get the most benefits from statistical data collection without breaching the law.

Statistics reports and ease of access
Advanced website analytics reports can be accessed by either clicking on the pie chart graphic icon to the left of each project's name or the website project report menu items located under each project name (configurable by user).
All reports are produced in real-time without delays. As soon as there is visitor activity on a website, the reports are instantly updated. When a JavaScript visitor tracking code is used, it produces the most comprehensive reports available. HTML tracking is also available (not available in Google Analytics), and can be used to track websites that do not allow the utilization of JavaScript tracking. These can include social networks, CMS (content management systems), and various website creation services.
The main web analytics report menu provides a selection of essential reports such as Campaign Tracking, Link Tracking, Page Tracking, Daily Hit Stats, Campaign raw traffic log, Keywords Analytics, Came From Stream, Raw Page Loads Log, Web Visitor List and Web Visitor Map.
Aggregated web analytics data
The aggregated web analytics logs provide essential info about Traffic, Individual Pages, Web Visitors, System Platforms, and Geographical data. All of the data provides in-depth information on website traffic from a real-time web analytics engine. Subject to General Data Protection Regulation (GDPR) (EU) 2016/679 directive, all data can be completely customized to scale to the existing EU GDPR requirements.

Dedicated campaign tracker module
The campaign analytics reporting allows webmasters to track each individual advertising campaigns from vendors such as AdWords, Bing Ads, BuySellAds, AdRoll, 7Search, Infolinks, Kontextua, DNTX.com, AdLandmark, Sponsored Tweets, ADsmonster, and man others. The Campaign Tracking report provides advanced information about advertising PPC or PPM campaigns, affiliate programs, referrals, and advertising costs.

The campaign report gives access to other in-depth reporting, which includes but is not limited to individual visitor activity tracking, preset campaign clicks, raw data on page views, campaign link abuse and suspected fraudulent activity, conversion data, and total earnings.
Flexible HTML5 charts with an option to utilize Flash Charts
The HTML5-based charts (user switchable to Flash Charts) are individually renderable for subdivided reports which include Conversions, Bounced Visits, Click Stats, and Conversion Earnings. These graph renders can be further drilled down to yearly, monthly, and daily timeframes.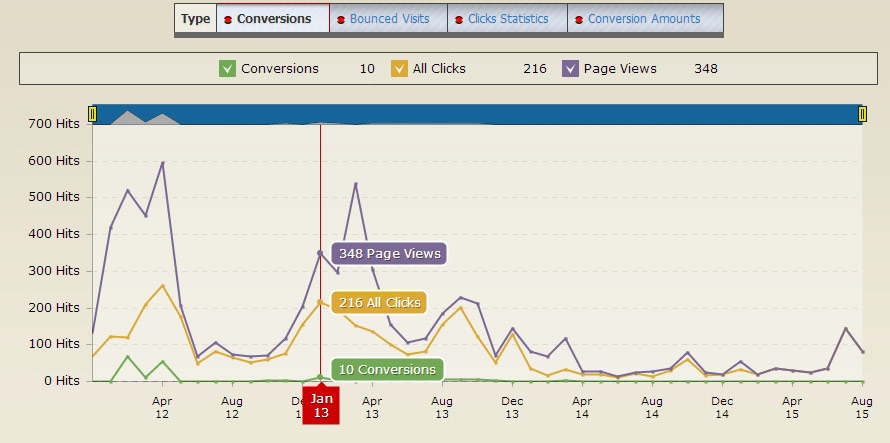 Solo Link and Solo Page Trackers. Both tracking tools are separate individual tracking modules that are seamlessly integrated into each project set of analytics tools. These tools go beyond analytics by enabling webmasters to interact with web visitors through the creation of conditional action rules. For example a TraceMyIP.org user can create a rule based on specific visitor data to redirect the visitor or show a popup message to the visitor. Other options include visitor blocking and transitional messages.
Daily Website Hit Statistics
Daily Hit Stats report renders a visual representation of page loads, first-time, returning, and unique visits from the very first date the analytics project is started. This log retains unlimited data for basic and premium accounts. The visual representation is rendered in the form of graphic charts that offer customizable views and date ranges. The charts are zoomable and can be quickly focused on any given time and date range.
The graphic chart data features quick filters that allow switching the analytics charts between Page Loads & Visits, Traffic Sources, Social Engagement, and National vs International visitor traffic.
Discrete and proportional graphic charts
The graphic charts can be further switched between Discrete and Proportional views for a more appropriate graphical data representation.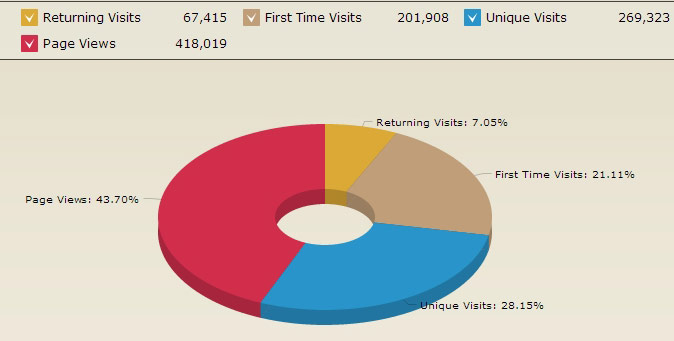 Hourly Website Hit Statistics
Hourly reports provide a graphic chart representation of hourly page load and visit statistics that are measured on an hourly basis. This report can be used to measure real-time and recurring traffic from advertising campaigns where a specific timeframe of the day is observed. Other uses include hourly page load and visit summary stats and website uptime monitoring.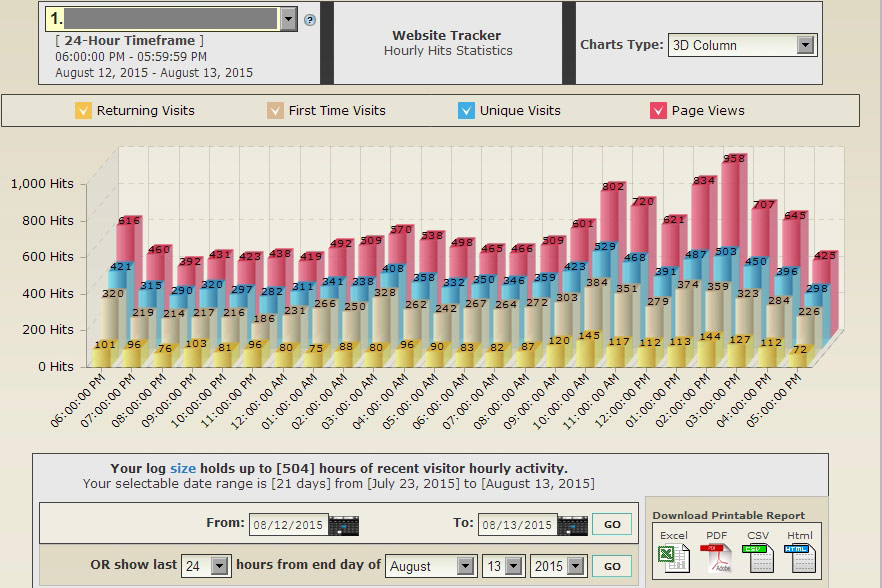 Search Engine Keywords Analytics
Search Engine Keywords analysis gathers all possible keyword data sources utilized across all search engines. Although Google's keywords data might be somewhat limited due to the decision to secure keywords data, all available search engine keywords data is reported on this keywords analytics report. It provides a searchable analysis of all search engine keywords that deliver traffic to a website.
Website traffic referrer reporting
"Came From" report (URL Referrers) delivers a searchable list of all referrers that brought visitors to a website. Each referrer entry tracks individual visitor identification in form of an IP address, geographical location, computer system utilized, referring URL address, and landing URL address.
Individual IP page loads report
The Page Loads Log analytics lists data about every website page requested. It includes website visitor identification data such as ISP, Organization, IP address, physical location, browser, and OS data, search keywords data, referrer and landing pages, and more. It also provides a webmaster with tools to tag the visitor and track the visitor regardless of an IP address, which allows tracking a visitor's IP address changes in real-time. This is the most extensive log that also is highly configurable with EU GDPR compliance tools.
This log and other logs, also allow web publishers to add searchable notes for each page load.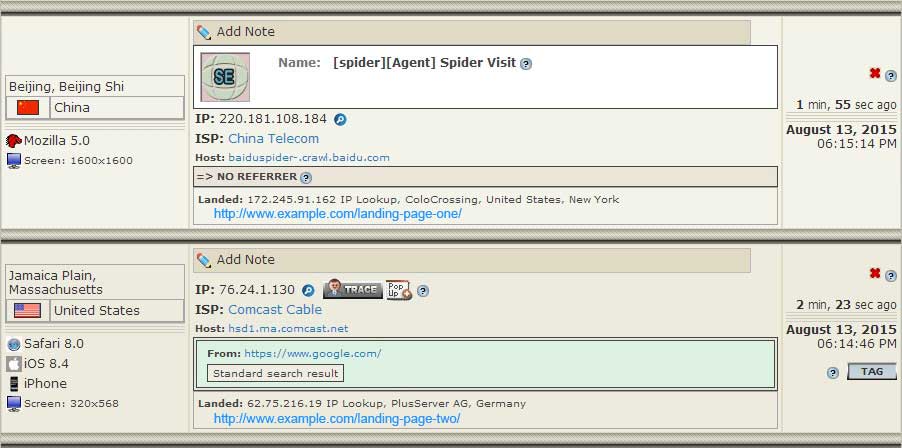 Website Visitor List
The Visitor List Log shows a comprehensive list containing the most essential data about each single website visitor (not available in Google Analytics).
The information about each visitor consists of an indication if a visitor is currently online, how many visits and pages were viewed by each visitor, personal geoinformation, ISP and Organization data, initial website referrer, ISP host, recent time spent on site and address book data associated with a particular visitor.
The advanced drill-down filter provides options to search visitors that recently changed their IP address, referred by a search engine, came from networks originating within Organizations, and/or currently are actively browsing a website.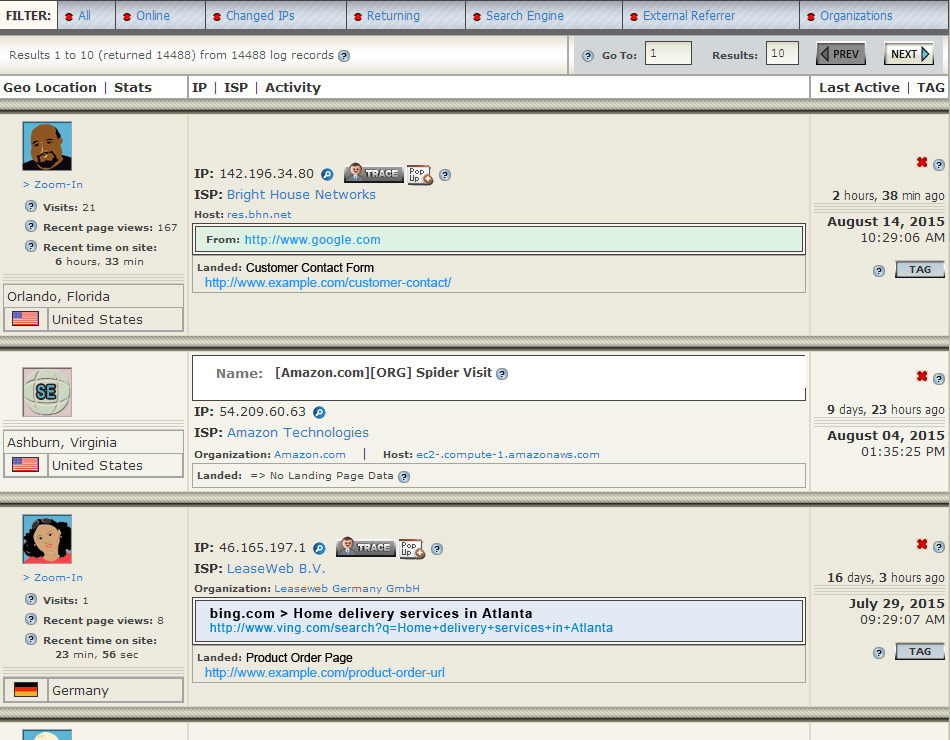 Website visitor mapping location and visitor activity
Visitor Map View generates a geographical overview of all individual visitors that are currently stored in a real-time visitor log. Each visitor's icon on the map is clickable, which allows a webmaster to further drill down on each visitor's information for further analysis.
The map view is customizable and allows for zooming, satellite, and basic road map views.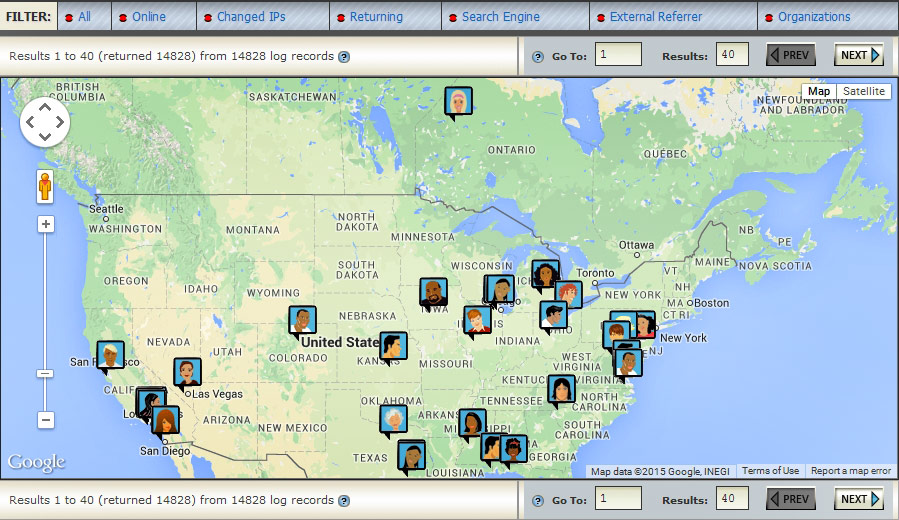 Visitor Details. The system provides a dedicated page for each website visitor. The page serves as a detailed stream of data reflecting on visitors' web page loading activity, the time spent on site, each page view time, and associated address book tagging information.
The following visitor data blocks are integrated into each visitor's informational page:
Visitor Status - shows the info on visit durations, recurrence and frequency
System - shows data on the visitor's computer system utilized, including device operating system, display resolution, browser name and version, browser language, support for cookies, and complete device user agent
Geo Location - provides publicly accessible (as provided by visitor's ISP) geographical location, and includes longitude and latitude.
ISP and Organization - renders data available for visitor's network, and includes ISP, Organization, and host information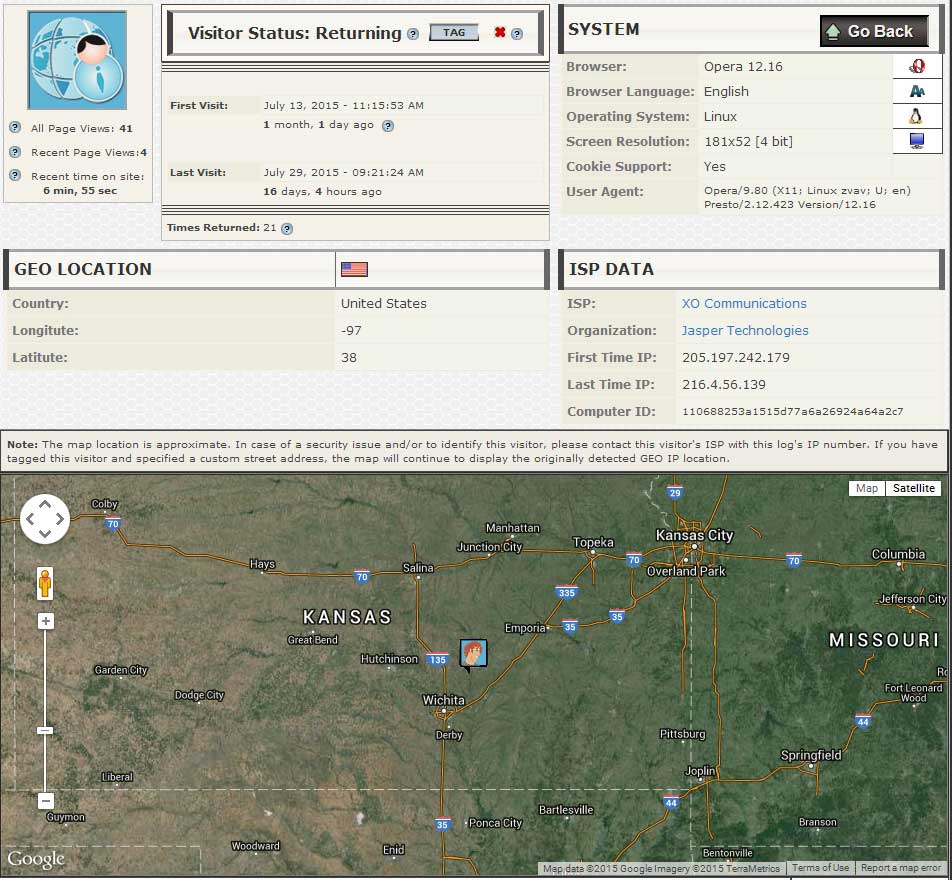 Aggregated (cumulative) web-analytics data
Aggregated web-analytics reports to allow producing statistical reports on the entire data stored for each website that's being monitored. The statistical reports provide more in-depth information on visitor flow and how it affected the website traffic data over time. Aggregated web analytics reports always stay the same and are not affected by EU GDPR compliance tools.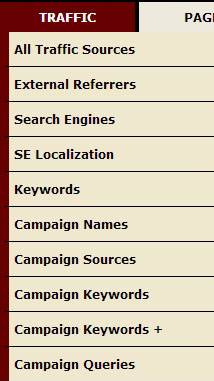 Traffic Sources. This analytics menu renders reports for website traffic sources
External website traffic sources
Search engine referred visitors
Direct browser URL entry
Search engine search keywords
Advertising Campaign traffic sources by keywords, name, and search queries.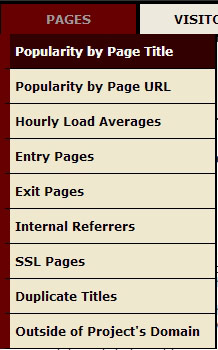 Website Pages. This analysis consists of the following statistical reports
Popularity of each Page by website URL
Hourly Web Page Load Averages
Visitor Entry and Exit Pages
Internal Visitor Referrers
HTTPS/SSL Pages
Duplicate Web Page Titles
Web Pages that are loaded outside of Authorized project's Domain name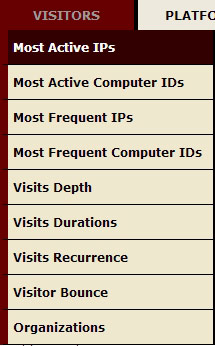 Website Visitors. This statistical report menu produces the following reports:
Most Active Visitor Computer IDs
Most Frequent Visitor IPs
Most Frequent Visitor Computer IDs
Visits Web Page Browsing Depth
Visits Stay Durations
Visits Recurrence
Visitor Bounce
Visitor Network Organizations
---
* Availability of computer IP and ID data is subject to EU GDPR compliance tools configuration.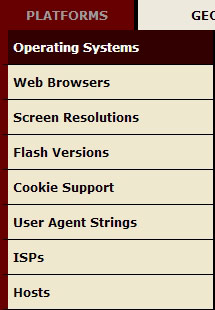 Network and System Platforms. Statistical representation is produced for the following
User Web Browsers
User Screen Resolutions
User Flash Versions
User System Cookie Support
User Agent Strings
User Network ISPs
User Network Hosts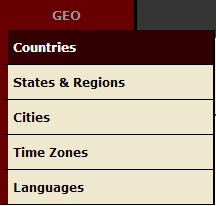 GEO data stats. Most occurring geo markers are statistically divided into reports as follows
IP States and Regions
IP Cities
IP Time Zones
IP Browser Languages
---
* GEO visitor information is subject to EU GDPR compliance tools configuration.
More reports are available as drill-downs. All data is acquired instantly without a single second a delay. Install a website statistics TraceMyIP tracker code to start gathering your website visitor analytics information right away.
To control visitors' access to web pages, the integrated Web Page Tracker module allows for instant control over website content. Just install a Web Page Tracker code above the Visitor Analytics Code and configure web page access rules as required. Both JavaScript Website Statistics and Web Page Tracker codes must be installed and loaded on each page.