Link Tracker - URL Controller, Protector & Click Monitor
Works as page access limiter / protector, IP blocker, link redirector, and ads click counter
Link Tracker is an integrated module that comes with each visitor tracker project and is a part of TraceMyIP.org system. Link tracker helps to protect contact pages, user forums, and guestbooks from abuse and to filter offending web traffic via geographical and IP range filters. To use the Link Tracker, register an account, create a website visitor tracking project, and then add a Link Tracker to a corresponding project ID.
Link Tracker allows you to:
Track and secure any URL/link on your website
Count link clicks for each click, first-time visits and returning visits
Calculate your revenue per first time, returning, and all clicks
Track email links and ad campaigns
Provide geo-targeting for your website content - Redirect and geotarget your visitors depending on their country of origin.
Prevent credit card fraud by redirecting unwanted payment gateway traffic to a dummy checkout page
Stop comment and contact form spammers. Protect guestbooks, user forums, and chat rooms from being spammed with offending content by blocking specific, countries, states, cities, and visitor IPs, including entire IP ranges.
Protect user forums and chat rooms from spamming by visitors from disallowed countries or visitors with blocked IPs.
Protect and block login and membership forms from accessing by bulk sign-up and spam scripts
Redirect visitors by creating Link Tracker access control rules
Filter visitors' link access by IP, GEO, and TIME Range
Use IP Blocker to redirect any visitor, show a blank page, a message, or under construction page.
Use link tracker to protect the pages on your website from spammers by Geographical Allocation Control
Permit or block access to file downloads
Track links that point outside of your domain
Protect an email address posted on your website
Create vacation notices using a TIME Control module
Using a single Link Tracker, redirect users to different pages
Communicate with your visitors! Deliver messages to visitors with specific IPs!
Custom visitors redirect filters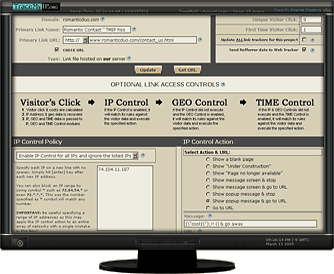 Redirect URL and message actions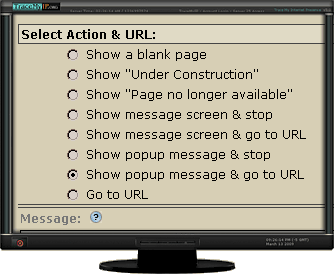 Link Tracker is a universal module that works similarly to the Page Tracker module, which adds the capability to control individual pages just like the Link Tracker controls URLs.
Each project allows setting up Link and Page Trackers individually. Using both allows you to have complete control over all links and pages on your website.