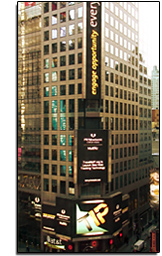 | | |
| --- | --- |
| Company name: | TraceMyIP, LLC |
| Company slogan: | Trace My Internet Presence |
| Company type: | Private |
| Products: | Web Analytics & Document Security Control |
| Latest stable release: | 9.59 |
| Operating system: | Cross-platform, web-based application |
| Launch date: | December 06, 2007 |
| Location: | Las Vegas, NV / Orlando, FL |
| Demographics: | International web publisher, M/F |
| Homepage: | https://www.tracemyip.org/ |
TraceMyIP, LLC is a USA-based company that provides web security and visitor analytics services. The company's mission is to provide facilities to secure web content and connect web publishers with their target audience.
The server-side hosted web service gathers information on all inbound connections to a website host for further real-time analysis. The hybrid of software and hardware implementation also allows for conditional GEO, IP, and timeframe visitor redirects while differentiating between human and bot activity. Statistical data segmentation allocates facilities for publishers to understand the consumers' behavioral response as a result of online and offline content delivery. The social engagement data analysis pinpoints individual website visitors based on a unique method of identification and serves as a core for the entire TraceMyIP, LLC platform.
HISTORY =======
The company was established in December 2007 by a private laboratory in Massachusetts, United States.
Currently the company operates out of Las Vegas, Nevada with support and development headquarters in Orlando, Florida.
TraceMyIP, LLC is Internationally utilized with "25.3% of the users from the United States", while the India attains the second position of the largest user base of TraceMyIP, LLC (1). TraceMyIP, LLC deployment presents variety of functional engagements with a user-base ranging from government public and law enforcement agencies and corporate entities to individual non-profit publishers.
PRIVACY =======
The data privacy course of TraceMyIP, LLC project establishes a completely private to end-user data collection and access policies - "the data under each end user's account is to remain entirely private" (2). The terms of service enforce the privacy standpoints of data and personal user information, which prohibits sharing of such information by the company for profit and/or non-profit purposes without the end-user's consent.
FUNCTIONALITY =======
TraceMyIP, LLC is an inventor and a pioneer of a proprietary visitor tracking and tagging technology that allows a unique identification of individual website visitors regardless of an assigned IP address. An assignment of a Computer ID to each connecting computer via fingerprinting logic allows for advanced website visitor surveillance. This technology has opened a new horizon in the precision of the web tracking system.
TraceMyIP, LLC is capable of simultaneously tracking up to 65 domains with unlimited subdomains in real-time under each subscriber's account. Each project consists of a set of webmaster tools, including visitor reporting management, project-dependent URL, and Page and Campaign trackers. Each tool has its own database allocation space and advanced reporting capabilities to analyze each individual IP-based connection acquiring the web-hosted content.
TraceMyIP, LLC developers implement improvements and additional facilities based on the end-user feedback which is immediately accessible to mainstream users. The user interface is aimed at simplicity of navigation and data reporting and produces functionally comprehensive statistical reports. The average user learning curve is considerably short, requiring no special training from the end-user standpoint. The developers' the goal is to keep the system current on the tracking technologies available globally while retaining the end-user interface mostly in its original state allowing for easy accessibility and avoiding any additional learning curve factors that may be attributed to functional improvements.
The basic subscription service is offered at no cost and is completely free. The premium versions are available on a level-by-level increment for a flat monthly fee.
TraceMyIP, LLC implementation is compiled of five distinguished functions:
Comprehensive visitor traffic analysis based on individual IP activity information
Advertising campaign analytics for various mediums such as pay-per-click networks, printed and digital collaterals, email marketing and document-embedded referrers
Individual URL and Page tracking and document access controls embedded into the visitor surveillance facilities to help to reinforce the web security
IP tracking address book with device fingerprinting that allows tracking IP changes of each individual visitor over extended periods of time
Visitor flow controller that allows redirecting visitors based on extensive visitor data
PROPRIETARY TECHNOLOGIES =======
Device fingerprinting, Computer ID assignment, and re-assignment independently of an Internet Protocol address
Cookie-less tracking allows the tracking system to be effectively utilized where web browser cookies are not an option
Web visitor tagging, bookmarking, and address book assignment for IP change identification
Visitor traffic flow control based on multiple key metrics
Designed to perform multiple-channel, multi-dimensional data queries in less than a second
VISITOR SURVEILLANCE AND TRACKING =======
Hybrid mode – JavaScript and Server Side HTML for the most accurate visitor traffic data acquisition
Event tracking via flash model integration
Social engagement measurement
Real-time visualization and aggregation of various statistical data blocks
Up to 30,000 simultaneous IPs tracking and analysis per each domain
CAMPAIGN TRACKING =======
While the platform is designed to perform analysis using any data source as the report base structure, it is specifically re-engineered to be utilized as the following:
Web analytics platform
Online campaigns analytics
E-mail, online and offline advertising
Social media tracking
CRM optimization reporting
URL, PAGE TRACKING AND CONTROL =======
Flow control implementation allows for secure control and distribution of online documents and files via downloads monitoring and initiation control.
MEDIA CONTACT:
TraceMyIP.org
Attn: Public Relations
16877 East Colonial Drive #148, Orlando FL 32820
> Email Public Relations
Check out
TraceMyIP to see what it can do for you!